Community Supported Forestry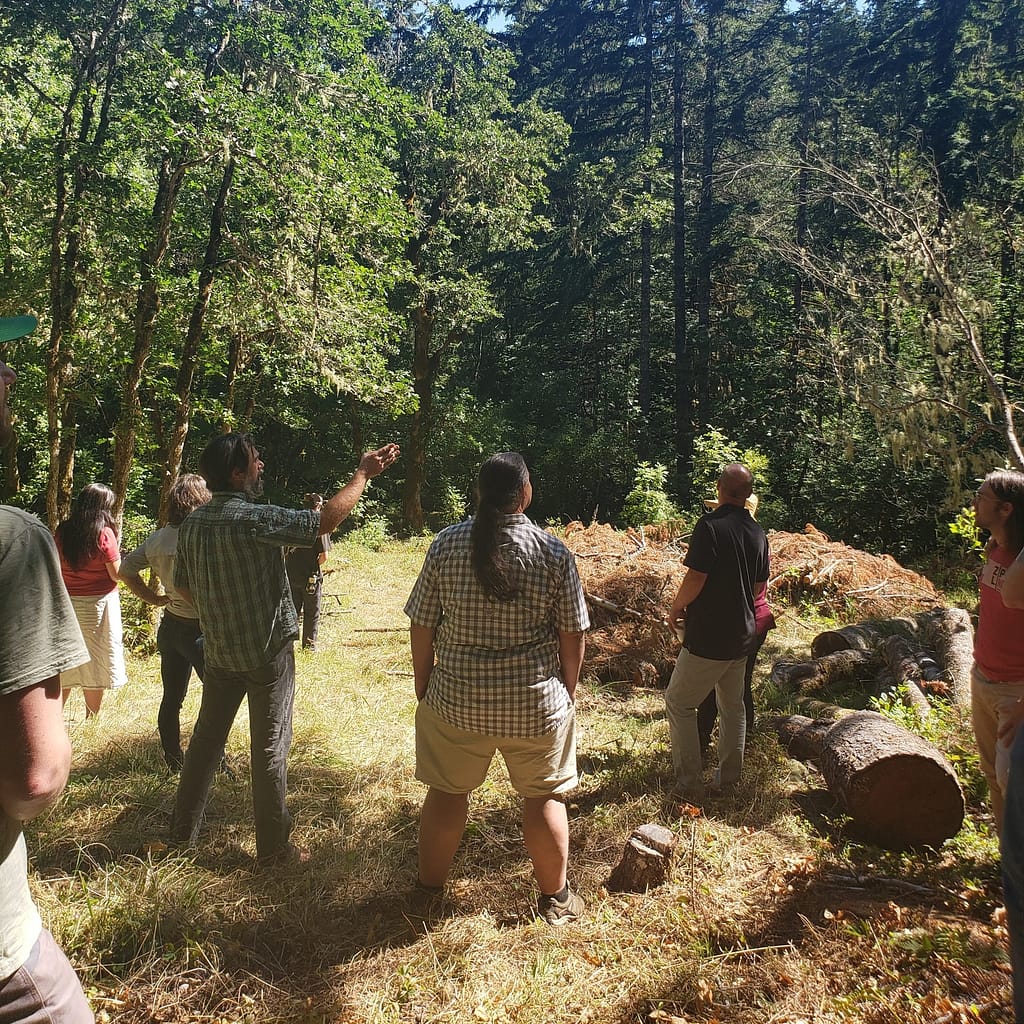 An alternative forestry is emerging in the Pacific Northwest. A forestry informed by the wisdom and stewardship of Indigenous people. An expansive forestry that includes myriad ecosystems and habitats from old growth conifer forests to oak savannas, from Wapato wetlands, to urban food forests. And a forestry tailored to rekindle community and cultural wellbeing while regenerating the landscapes in which we live. We call this Restoration Forestry. 
Restoration Forestry integrates ecological forestry, habitat regeneration, and agroforestry to bring about both ecological health and the economic and social wellbeing of communities. It combines these practices to address the four-fold challenge of growing regenerative forest and food economies, building climate resilience, enhancing biodiversity, and ensuring diverse, equitable, and inclusive leadership in the sector. Ultimately, the word restoration in the context of Restoration Forestry is meant to invoke a process that leads to the restoration of land, the restoration of communities and economies, and the restoration of cultural traditions.
Our work is to support the adoption of Restoration Forestry in Western Oregon and we do that through the concept of Community Supported Forestry (CSF). The key to CSF is building coalitions, training forestry practitioners, filling in the gaps in market information, and developing the technics for local, reliable, supply chains of forest products that connect ecological health, rural jobs, and equity in urban spaces. 
Regenerating Landscapes; Restoring Relations
A six-module workshop towards Indigenizing ecological restoration
The Center for Rural Livelihoods in collaboration with Live Oak Consulting presents Regenerating Landscapes, Restoring Relations. This workshop series consists of a set of three online and three in-field modules that delve into the process of integrating Indigenous knowledge with ecological restoration projects, expanding Tribal land access, and decolonizing settler colonialism. The field days consist of visits to land stewardship projects that showcase generative partnerships, that explore techniques of ecological management, and that include the possibility for a hands-on component. The goal of these offerings are to build interconnected networks of Indigenous leaders, practitioners, and landowners to transform partnerships so that — through ecological restoration, economic development, and cultural revitalization — we are contributing to broad scale shifts in social power. Online modules will be hosted on zoom and approximately two hours. Field days will be approximately four hours. Attendance is free.
PART 1: ONLINE COURSES
Introduction to Cultural Sensitivity and Land Stewardship
Integrating Traditional Knowledge into Land Stewardship Projects
Shared Stewardship – Land access arrangements for Indigenous projects
PART 2: PRACTICUM FIELD VISITS
Andrew Reasoner Wildlife Preserve and the Traditional Ecological Inquiry Program
Cha Tumenma with the Komemma Cultural Protection Association
Confederated Tribes of Siletz Indians (CTSI) Garden Program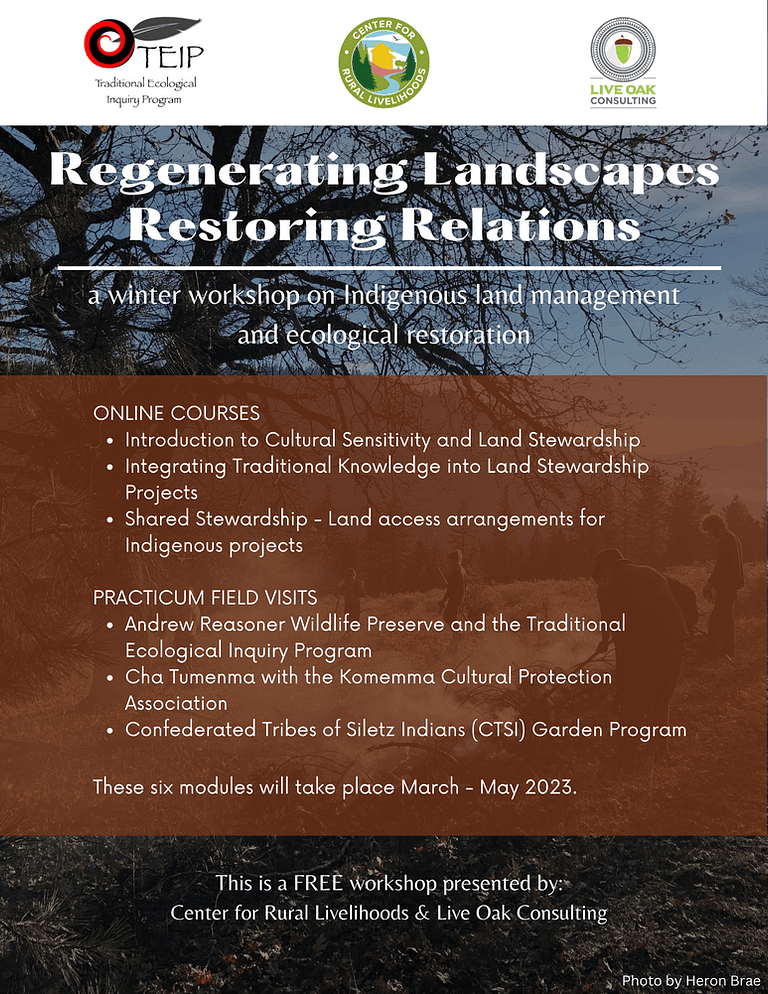 Forest-to-Affordable Frame
The above is a short clip of Americorps' contribution, including their contribution to the Forest-to-Affordable Frame initiative. Thanks to support from Business Oregon, we are working with Summer Luu to create new video content, which will be posted later in 2023.
This initiative – in partnership with SquareOne Villages – seeks to develop climate-smart ecological forest management practices in ways that can serve those dealing effectively and innovatively with the housing crisis. As we develop our wood processing facilities, value chain coordination, and connections between consumers and producers, we hope to expand the use of lumber from ecologically-managed land in affordable housing projects like those of SquareOne Villages. Check out the video below to get a sense of this work: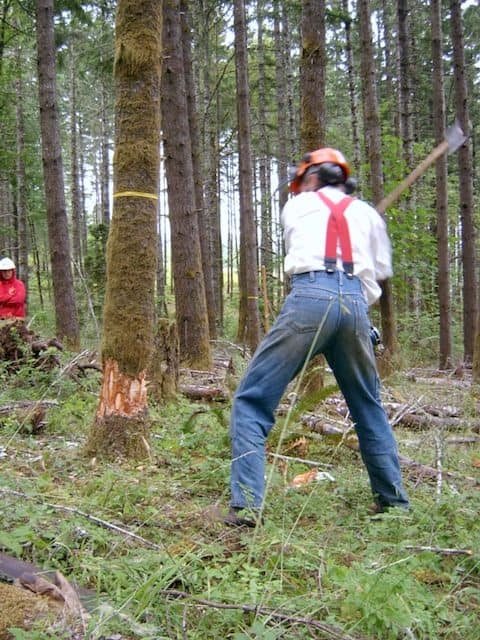 We are actively working with South Lane School District and especially Al Kennedy High School to support youth in developing skills for an economy based in ecological stewardship. These programs respond to an identified need for a more skilled workforce in the emergent sector of restoration forestry. It is our hope that workforce training for this sector will include all aspects of land management including surveying and managing woodlots, developing forestlands that produce a diversity of outcomes including fruit, nut, and meat production to lumber, furniture, and biochar production.
Residential Fellowship Program
The mission of the residential program is to provide an experience living in an ecologically-friendly, cooperative environment in rural Oregon for up to a two-year residency term that incubates small business development, non-profit projects, right livelihood endeavors, and other mission-aligned projects. The intention is that after the residency at the Center for Rural Livelihoods, Fellows will contribute to regional rural development and become part of a network of initiatives with social and ecological benefits. Residents will live in a rustic 800 sq. ft. two-story cabin and have access to garden beds, 35 acres of forest, and a shop. It is part of the Center for Rural Livelihoods' Community Supported Forestry initiative for regenerative forestlands.
Four decades of alumni of the Center for Rural Livelihoods have created a special community at the headwaters of the Willamette Valley. Alumni have left a mark on the unique town of Cottage Grove (a twenty-five-minute drive from Eugene) by starting plant nurseries, construction companies, nonprofits in third world development, a local radio station, a Permaculture design company, a bar and music venue on Main St., eco-forestry businesses, and much else. Fellows form an essential part of the Community Supported Forestry program by starting new initiatives, joining established ones, or making important linkages to further an ecological forest economy that radically expands climate-smart land stewardship infused with Indigenous perspectives and leadership.
Inquire here about openings: 
We are happy to share this assessment of the restoration forestry sector as it pertains to our region. It is a snapshot of our evolving thoughts about the challenges and opportunities ahead for radically changing local land management regimes in ways that are responsive to catastrophic climate change, fire danger, food insecurity, and the economic and cultural values of myriad forest products. We explore ways for such a regenerative economy to grow that builds solidarity among participants and can help repair relationships amongst a diverse constituency.